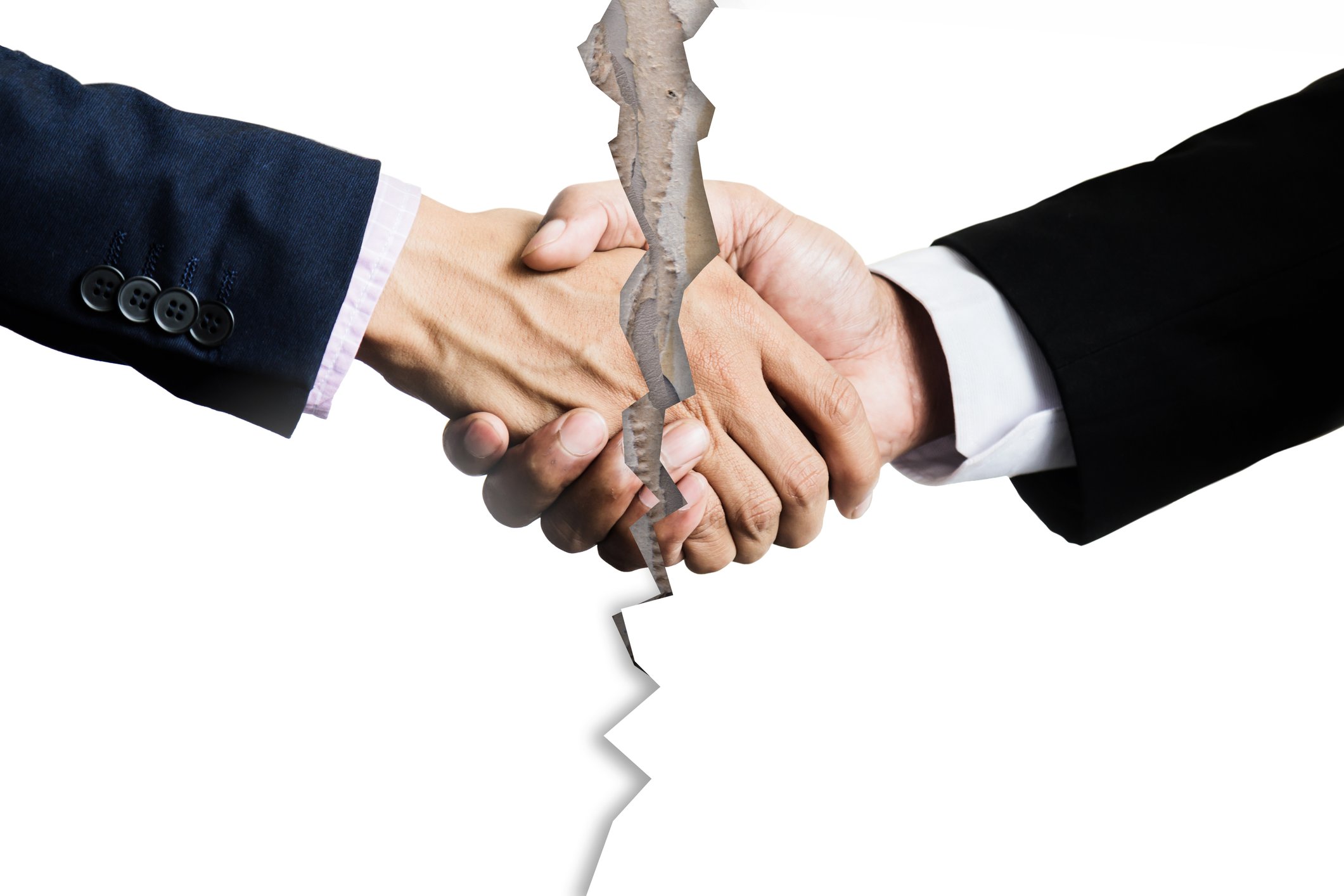 Webster's Dictionary defines a "partnerectomy" as "the procedure to remove a diseased or failing business co-owner." Well, OK, that's not true — it is a word that we made up. But sometimes partnerships need to come to an end. Here are the symptoms to watch for to determine if you have a business partner who needs to go.
Business Partnerships
According to our proprietary research, about seven out of 10 U.S. companies have more than one owner. These partnerships feature two or more leaders coming together with the shared goal of growing the company. Their combined effort and often complementary skills fuel the company's growth and success. That's the positive version of the story — and it is often true, especially in the beginning. However, sometimes business partners realize they may not be exactly on the same page on multiple issues. Sometimes it's possible to reconcile their differences and resume a productive relationship. Other times, the necessary and perhaps the only course of action is to remove the partner in question. In other words, the company needs a partnerectomy.
Some partnerectomies are more difficult than others. Some are painful, angry, risky, expensive, and cause lasting scar tissue. Others are more controlled, safer, less emotional, and leave the organization much stronger than it was before the procedure. Either way, before resorting to this invasive and irrevocable course of action, business co-owners should exhaust every effort and resource to find another resolution to their core differences.
Reasons to Buy Out Your Business Partner
Here are the symptoms that indicate your organization may need a partnerectomy, any of which suggests that it's time to take action. You may need a partnerectomy if:
You and your partner(s) disagree about where to take the company and how to get there.
One or more partner(s) want to take all of the company profits home while one or more partner(s) want to reinvest all of the profits back into the company for growth.
You believe that there are important topics that you cannot discuss with your partner(s) for fear of damaging the relationship.
Deep down, you are not sure that you can trust your business partner(s).
Deep down, if you could turn back the clock you would not enter into a partnership with that person(s) again.
Deep down, you believe that if that partner(s) were to leave the company, then employees, customers, suppliers, or other third parties would be relieved.
You and your partner(s) have very different timelines for when each wants to exit from the company.
You and your partner(s) have very different opinions about your company's value.
You and your partner(s) have not signed a buy-sell agreement.
Your employees clearly prefer or are aligned with one partner or another, such that divisive factions exist in your organization.
Members of your leadership team are unclear what a particular partner actually does inside the company.
You believe that if that partner(s) departed from the company tomorrow, the company would not experience any setback or difficulties.
You find yourself frequently having to do any of the following for another partner(s): "cover for" him or her, do "damage control," or "take precautionary steps" to ensure that the other partner does not cause the company problems, intentionally or not.
Your partner(s) has ongoing personal habits or issues that create a serious risk for the business.
You and your partner(s) do not have current, written, mutually agreed-upon job descriptions.
You and your partner(s) are working at different commitment and energy levels but take home the same pay.
You and your partner(s) are doing different jobs inside the company but take home the same pay.
It is worth noting that some of these symptoms set off obvious and immediate alarm bells, whereas others seem trivial or harmless. Yet, as the word symptom implies, each of these items may be a surface manifestation of a deeper root issue that, if left unaddressed, can lead to real catastrophe. If you are experiencing any of these symptoms, just like any true medical issue it is advisable to discuss your situation with a knowledgeable advisor, and if necessary, do "more tests." Contact us to confidentially discuss your situation.
Editor's Note: This post was originally published in February 2019 and has been revamped and updated for accuracy and comprehensiveness.